Skip Navigation
Website Accessibility
Pamela's Favorite Bias Skirt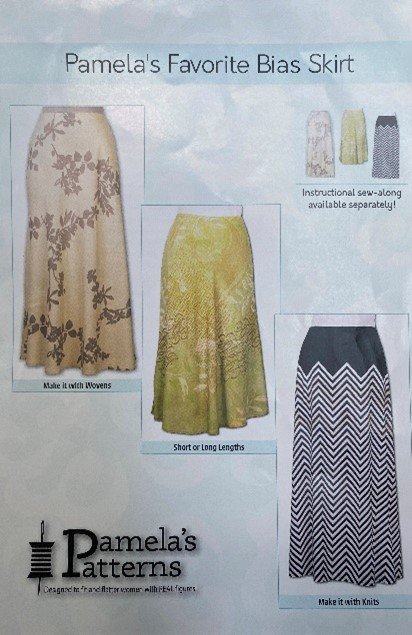 "Pamela's Favorite Bias Skirt is a flattering style for almost all figures and is guaranteed to make you look and feel thinner!" Choose the length you want from the knee to the ankle. Choose between a full or slim silhouette and add a smooth sew-in elastic technique with Pamela's Fantastic Elastic. You may make this skirt with a lightweight woven fabric or a knit fabric.
Many are getting great experience with using their sergers by bringing both machines to class. The first class will include pattern fitting and tracing, cutting fabrics, and beginning sewing the garment. We will do fittings along the way as we are putting the garment together, so you will have a custom-fit skirt! You will also learn to do a narrow hem on a sewing machine with or without a hemmer foot. Class participants always have a lot of fun with lots of laughter, and of course, making new friends!


Materials required:
Pamela's Favorite Bias Skirt pattern #106

available at Angels

Pamela's pattern tracing fabric, red dot tracing paper (soft enough for pattern fitting) or Swedish Tracing paper, pencil, Flare marker or Pilot Precise V10 Premium Roller Ball Pen for permanently marking your finished pattern.

See pattern for fabric requirements.

Fabric suggestions: lightweight woven such as linen and linen blends, silk, rayon challis, batik.

Optional: you may choose to line the skirt with a polyester, rayon or cotton batiste.

My sample with a light rayon is lined.

Pamela's Fantastic Elastic

Quilting ruler and curved armhole ruler for garment construction.

Foldable carboard Cutting surface (Dritz Superboard Cutting Surface), rotary cutter, scissors, large cutting mat, pins or weights,

Press cloth, Best Press, pressing ham/sleeve roll or clapper/point pressing tool.

Sewing tools & notions (pins, scissors, stiletto, marking tools, Microtex 80/12 needles (Stretch if using knit) for sewing, matching thread, Hot Hemmer ruler, marking tools: chalk recommended, disappearing and wash away (not Frixion) or tracing wheel and chalk paper, or a pattern notcher.

Optional: hemmer foot

Pins for fitting, Dritz Extra Fine Glass Head pins, 1 3/8" -#3004, or Clover Wonder Pins-#3210 (preferred)

Sewing machine; serger, if desired
Prep before class:
Purchase the pattern and read through to become familiar with the pattern and for further fabric recommendations.

Purchase and pre-wash and dry the fabric before class.

Do not cut your size out of the original pattern; we will be tracing and making pattern adjustments for you.

Some materials will be available to purchase at the class like pattern tracing paper, marking and sewing tools, needles and thread.
Skill Level:
intermediate
Pamela's Favorite Bias Skirt