Skip Navigation
Website Accessibility
LESSONS - Wed 10:00 & 11:45 & 6:00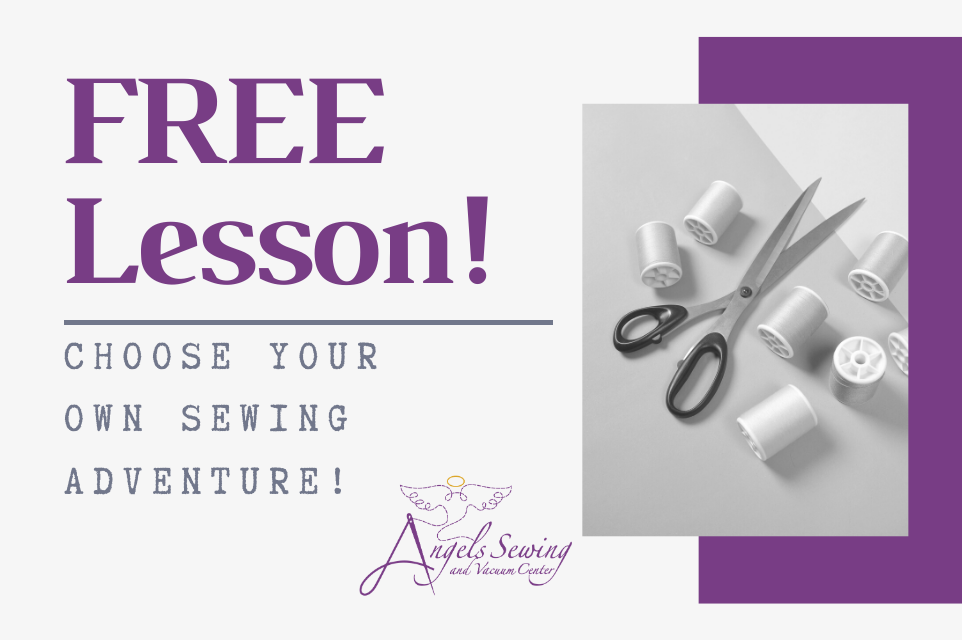 Your lessons are always free when you purchase a machine from Angels Sewing and Quilting Center. With nearly 30 different sewing, serging and embroidery technique free lessons, you'll be comfortable with your machine in no time!
Our free lesson times are scheduled regularly and you can view all upcoming classes by
clicking here to visit our complete calendar
.
Below is the list of currently available free lessons from Angels Sewing & Quilting Center. Call us to schedule your lesson (603) 898-0777 as we have limited spots available to insure quality instruction. When you call to schedule your lesson, we will note which lesson you would like to complete and be ready for you upon arrival.
Know Your Machine
Decorative Stitches
Hems and More Hems
Great Zippers
Better Buttonholes
Advanced Buttonholes
Quick Serge with Knits on Sewing Machine
Stained Glass
Finished Applique
Piping and Beading
Quilting Basics
Paper Piecing
Channeling-Grid Quilting
Binding Basics
Free Motion Quilting
Beginner Ruffling
Pintuck and Wing Needle

Know Your Serger
Know Your Serger Feet
Quick Serge With Knits on Serger
Rolled and Decorative Edges on Serger
Serging with Decorative Threads
Cover Stitch and Chain Stitch
Embroidery Basics
Know Your Embroidery Screen
Learn to Stabilize
Hooping Basics
Applique in the Hoop
Putting it All Together - Monogramming a Towel
Requirements:
Call us to schedule your lesson (603) 898-0777
LESSONS - Wed 10:00 & 11:45 & 6:00
Cost:
$ FREE
Free with purchase of machine.
| | |
| --- | --- |
| | Wed, Dec 13, 2023 at 10:00 am to 11:30 am |
| | |
| | Wed, Dec 13, 2023 at 11:45 am to 1:15 pm |
| | |
| | Wed, Dec 20, 2023 at 6:00 pm to 7:30 pm |
| | |
| | Wed, Jan 10, 2024 at 10:00 am to 11:30 am |
| | |
| | Wed, Jan 10, 2024 at 11:45 am to 1:15 pm |
| | |
| | Wed, Jan 10, 2024 at 6:00 pm to 7:30 pm |
| | |
| | Wed, Jan 24, 2024 at 10:00 am to 11:30 am |
| | |
| | Wed, Jan 24, 2024 at 11:45 am to 1:15 pm |
| | |
| | Wed, Jan 24, 2024 at 6:00 pm to 7:30 pm |
| | |
| | Wed, Jan 31, 2024 at 6:00 pm to 7:30 pm |
| | |
| | Wed, Feb 7, 2024 at 6:00 pm to 7:30 pm |
| | |
| | Wed, Feb 14, 2024 at 10:00 am to 11:30 am |
| | |
| | Wed, Feb 14, 2024 at 11:45 am to 1:15 pm |
| | |
| | Wed, Feb 28, 2024 at 10:00 am to 11:30 am |
| | |
| | Wed, Feb 28, 2024 at 11:45 am to 1:15 pm |
| | |
| | Wed, Feb 28, 2024 at 6:00 pm to 7:30 pm |
| | |
| | Wed, Mar 6, 2024 at 10:00 am to 11:30 am |
| | |
| | Wed, Mar 6, 2024 at 11:45 am to 1:15 pm |
| | |
| | Wed, Mar 6, 2024 at 6:00 pm to 7:30 pm |
| | |
| | Wed, Mar 13, 2024 at 10:00 am to 11:30 am |
| | |
| | Wed, Mar 13, 2024 at 11:45 am to 1:15 pm |
| | |
| | Wed, Mar 13, 2024 at 6:00 pm to 7:30 pm |
| | |