Free Lessons with Every Machine Purchase at Angels Sewing!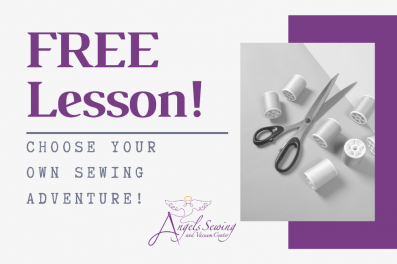 When you purchase a sewing machine, embroidery machine or serger from Angels Sewing and Vacuum Center, you receive unlimited FREE sewing and technique lessons for as long as you own your machine. With nearly 30 different sewing, serging and embroidery technique free lessons, you'll be comfortable with your machine in no time! Or even if you have owned your machine for a while and just can't remember how to do a buttonhole, you can register for the lesson time that is convenient for you and take that buttonhole free lesson again. Our free lesson times are scheduled regularly and you can view all upcoming classes by
clicking here to visit our complete calendar
.
Below are descriptions of currently available free lessons from Angels Sewing & Vacuum Center. Call us to schedule your lesson (603) 898-0777 as we have limited spots available to insure quality instruction. When you call to schedule your lesson, we will note which lesson you would like to complete and be ready for you upon arrival.
Know Your Machine
Get ready to learn the importance of good thread, correct bobbins and needles! We will also give you cleaning advice for your machine. We will teach you how to thread your machine, wind a bobbin and use your basic stitches like straight, zig-zag and overcast. You will learn how to adjust your length and width settings to create satin stitches.
Hems & More Hems
In this lesson learn about those Hems... Blind- Us
ed for knits and wovens when no stitching should show. Double Needle -Used for areas when you want a quick hem with two rows of stitching showing on the front. Jean- Used for hemming jeans and other heavier weight pants and skirts.


Know Your Serger


Your serger can be a little overwhelming! Have no fear! We will teach you how to thread that critter and how to tie off. You will learn how to balance your tensions to create that perfectly balanced serged edge. You will practice on different fabrics using the four thread and three thread serge.






Decorative Stitches
In this lesson you will be able to play with your decorative stitches. If you have lettering, we will show you how to program your machine to label your clothes, quilts and more. We will use embroidery thread, metallic threads and needles. You will learn how to adjust the tensions and threading on your machine, so you will be able to use the metallic thread!
Serging with Decorative Threads
Learn how to use decorative threads to enhance your serging further than you thought possible. Did you know you could "crochet" with your serger? We will show you how to thread your machine with ease when using those silky and slinky decorative threads.
Quilting Basics
In this lesson we will work with quilting tools such as rotary cutter, ruler and mat. After cutting, we will show you how to piece this block.
Embroidery Basics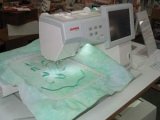 In this lesson you will learn how to select a small design and how to change thread colors with ease. Bring your embroidery threads and small hoop to this lesson where you will also learn basic hooping and basic stabilizing.
Buttonholes & Buttons
In this lesson you will learn to make buttonholes and you will never sew a button on by hand again! Learn the tricks of the trade that you'll use to make different types of buttonholes. Also, let us show you how easy it is to sew a button on using your sewing machine and button sewing foot.
Rolled & Decorative Edges with your Serger


Learn how to make a rolled edge and other decorative edges on your serger using different types and weights of threads. We will show you how to thread your machine with ease when using those heavier decorative threads.




Great Zippers

No need to be afraid of the dreaded zipper! We will show you different ways to sew in a zipper including an invisible zipper. No need to be nervous about these applications after this.

Know Your Embroidery Screen


This lesson is for embroidery machine owners who need help with all those buttons. Learn how to reduce and enlarge your designs on your machine. Learn how to select different fonts, font sizes and move your designs around in your hoop. Edit functions and more will be revealed. Any questions you may have on your screen will be answered!




Channeling

Learn how to make quilt sandwich and how to make perfect channels using walking foot with guide. Have fun and use your new walking foot and more to open yourself to new possibilities!


Quick Serge with Knits Sewing Machine or Serger
Clothing is a big thing now, and you want your homemade items to look professional. In this lesson we will teach you how to use your serger (or your serging stitch on your sewing machine) to create a quick knit project. Once you learn how utilize the serge you will want to create more garments for yourself and for others!
Easy Paper Piecing

In this lesson we will teach you a popular quilting technique that will help you create perfect quilt squares in a jiffy. This is a great way to use up your fabric stash and scraps to whip up some great gifts. We will show you the basics of paper piecing. Then you will get the bug and want to create all different kinds of things!



Learn to Stabilize
We will show you our "must have" stabilizers and how to use them. Do you have project and you're not sure which stabilizer to use, we will show you which stabilizer to use for cottons, knits, towels, etc. Also, you'll learn how much stabilizer to use for different types of embroidery designs.
Hooping Basics
Be prepared to expand your knowledge of hooping. Do you want to know how to hoop a towel, polar fleece, or a sweatshirt? These things will be revealed to you in this lesson. Do you have a tricky garment or material that you are not sure how to hoop or which stabilizer to use? We welcome questions at the end, so this is your time to ask and learn!
Piping & Beading
Want to add something extra to your projects? Attach beading to the pillow top in this lesson. You will also learn how to make your own cording and attach it. Now you will have professional looking items made by you!
Free Motion Quilting
We will show you how to use your free motion foot on your sewing machine to do stippling, echoing, and other quilting designs on your quilts. Have you heard of the hand seed stitch? If your machine has this stitch, we will show you how using clear thread can create the appearance of a hand sewn stitch.
Stained Glass
Imagine your favorite traditional quilt block designs with a stained glass effect. Let us show you how to use Bias Tape to create beautiful quilted stained glass pieces. Once you learn the basics, you can apply the techniques you learn to other quilt blocks and appliques.
Binding Basics
We will teach you how to put binding on your project. We will show you three different ways to bind the edge of your quilt project. Now those beautiful quilts you made will finally be finished.
Ruffling
Ruffles are so fun, but that ruffling foot can be a little intimidating. We will show you how to use your ruffling foot to create a one of a kind pillow. You will be amazed at how easy it really is. You will want to add a ruffle to many of your projects!
Finished Applique
You will learn how to do finished appliqué - no raw edges will be seen. Learn when doing a finished appliqué you can use any of your decorative stitches over the appliqué piece. Your decorative stitches can be used as part of the artistic effect.
Pin Tuck & Wing It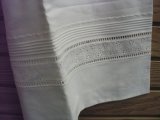 Pin tucks are great for enhancing any garment, from pants to shirts to heirloom applications and more. We will show you how a twin needle can create a neat row of lifted fabric to embellish your project. While you are here you will use a wing needle and learn all the possibilities this needle can open up to you!