Free Lessons with Every Machine Purchase at Angels Sewing!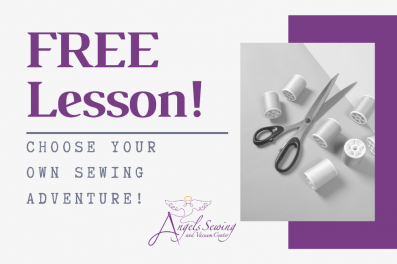 When you purchase a sewing machine, embroidery machine or serger from Angels Sewing and Quilting Center, you receive unlimited FREE sewing and technique lessons for as long as you own your machine. With nearly 30 different sewing, serging and embroidery technique free lessons, you'll be comfortable with your machine in no time! Or even if you have owned your machine for a while and just can't remember how to do a buttonhole, you can register for the lesson time that is convenient for you and take that buttonhole free lesson again. Our free lesson times are scheduled regularly and you can view all upcoming classes by
clicking here to visit our complete calendar
.
Below are descriptions of currently available free lessons from Angels Sewing & Quilting Center. Call us to schedule your lesson (603) 898-0777 as we have limited spots available to insure quality instruction. When you call to schedule your lesson, we will note which lesson you would like to complete and be ready for you upon arrival.
Supplies: Sewing machine, manual, and ALL accessories (including screwdriver) and supplies, including Mettler thread, scissors, ruler, pins or clips, press cloth, Frixon pen or other fabric marking tool, fine permanent marker and pencil. Some lessons require the purchase of a kit or special feet or attachment.
Know Your Machine
Learn the importance of quality thread, needles and cleaning your machine. You will learn how to thread your machine and use basic stitches like straight, zig-zag, satin, blind hem, overcast and buttonhole, and how to adjust stitch length and width.
Hems & More Hems
You will learn the blind hem, hem on knits with a twin needle, and a double fold hem on jeans. Supplies required: blind hem foot, overcasting foot.


Know Your Serger


Overcome your fear of threading your serger! You will learn the basics of using a 4-thread overlock stitch and learn about differential feed.





Decorative Stitches
Get comfortable using your machine by learning many of the stitches available. You will get different looks with different types of threads. Supplies required; basic, monogram/satin stitch or zig-zag foot, 80/12 Universal, Microtex, or Topstitch needle.
Serging with Decorative Threads
Try a variety of threads, Maxi-Lock Swirl, Pearl Crown, and Floriani embroidery threads. some f these decorative threads require special threading with a "thread cradle" or the metal wire that comes with your air-threading serger.
Quilting Basics
Learn to do basic piecing and get a consistent 1/4" seam to make a Four Patch block. You will also learn how to use a ruler, rotary cutter and mat to square up the block. Supplies required: 1/4" foot with guide, rotary cutter and ruler.
Embroidery Basics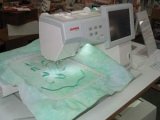 Expand on the editing features you learned in the first lesson. In addition to resizing a design, you will learn how to move it, flip it, rotate it, change the colors, and combine designs. Supplies required: Embroidery design Guide, 75/11 embroidery needle.
Buttonholes & Buttons
Explore the variety of buttonholes on your machine, as well as learn a corded buttonhole. You will also sew a button on with your machine. Supplies required: buttonhole foot, button fitting foot, eyelet punch.
Rolled & Decorative Edges with your Serger


Learn how to set up and serge a three-thread narrow hem and rolled hem. You will try these stitch settings with standard Maxi-Lock serger thread, and with Maxi-Lock stretch thread. Also, you will make pintucks with a rolled edge, and serge round corners on fleece fabric.



Zippers 3-Ways

Overcome your fear of zippers. You will learn a double-flap, single flap, and invisible zipper, and will turn each sample into a zipper bag. Supplies required: zipper foot or adjustable zipper AND invisible zipper foot.

Know Your Embroidery Screen

Learn how to thread and care for your new machine. You will learn where to find the designs that come with your machine and learn some basic on-screen editing. Supplies required: Embroidery Design Guide.





Channeling

Create a quilt sandwich and use your walking foot to create a quilted square. As a bonus, we will turn that square into a zipper bag. Supplies required: walking foot, all purpose foot, overcasting foot, zipper foot.


Quick Serge with Knits Sewing Machine or Serger
Learn how to make a small pair of knit pants and apply these techniques to make a pair in your own size!
Paper Piecing

Learn a different way of making quilt blocks using a printed pattern on foundation paper. This is a great method for sewing tiny scraps of fabric which are trimmed to size after stitching. use the block in a quilt, in a bag or on a garment! Supplies required: open toe, candlewicking or monogramming foot.



Learn to Stabilize
Learn about various types of stabilizers and how to use them. This lesson will focus on sticky stabilizers for hard to hoop items like towels, fleece and shirts. Supplies required: 75/11 embroidery needle.
Hooping Basics
You will learn how to hoop a difficult item like a onesie and place the design on the shirt using the grid template. Supplies required: onesie or t-shirt, 75/11 embroidery needle, applique trimming shears, grid template, Floriani Perfection tape.
Piping & Beading
Add fine detail to your projects with beading. Learn how to make and add piping to a small coaster. Supplies required: piping or adjustable zipper foot AND beading foot. Optional: Grande Groovin' Piping Tool.
Free Motion Quilting
Learn how to lower your feed dogs and use your free motion foot to quilt using various techniques: stippling, meandering, shadowing, echoing, and stenciling. Supplies required: free motion quilting foot. Optional: echo foot, quiltng gloves, extension table.
Stained Glass
Not just or quilts! Use this technique to give a quilt block or applique a stained-glass effect using quick bias and a twin needle. Supplies required: open toe, candlewicking or monogramming foot, 2 spools of black Mettler thread, secondary spool pin, 1/4' foot with guide. Optional: applique pressing sheet.
Binding Basics
Finish your quilt or wall hanging with binding you make to match. You will learn 3 different types of binding methods: wrap around, double fold bias, and traditional. Supplies required: 1/4" foot with guide, all purpose foot, walking foot. Optional: bias tape maker.
Ruffling
Learn how to use the ruffling foot to make ruffles; you can also ruffle and attach to your project all at one time. You will make a coaster with the same techniques of making a pillow. Supplies required: ruffling foot with directions, all purpose foot.
Finished Applique
You will learn how to do finished appliqué - no raw edges will be seen. Learn when doing a finished appliqué you can use any of your decorative stitches over the appliqué piece. Your decorative stitches can be used as part of the artistic effect.
Pin Tuck & Wing It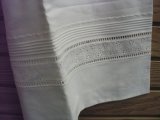 Pin tucks are great for enhancing any garment, from pants to shirts to heirloom applications and more. We will show you how a twin needle can create a neat row of lifted fabric to embellish your project. While you are here you will use a wing needle and learn all the possibilities this needle can open up to you!